34,80€
Άμεση παραλαβή / Παράδοση 1-2 μέρες
Κατασκευαστής:
NOMAD
Κωδικός Προϊόντος:
NOMADcaseLEATHERAppleAirpodsBRWNV2
Θήκη Nomad Δερμάτινη V2 για Apple AirPods - ΚΑΦΕ - NM220R0X00
Θήκη Nomad Δερμάτινη V2 για Apple AirPods - ΚΑΦΕ - NM220R0X00
Designed to give your AirPods a classic, yet bold new look. This minimalist, two-piece Rugged Case is built with genuine, vegetable-tanned leather from one of America's oldest tanneries. The leather is designed to beautifully patina with time, creating an AirPod case truly unique to you.
Horween leather from the United States
LED hole for charge indication
Rubber TPU bumper
Microfiber lining
Thin construction
Compatible with wireless charging
Designed for AirPods
Horween leather from the USA
Develops a rugged patina
Two-piece construction
Compatibility

Built for AirPods
Accessible Lightning port

Dimensions

Thickness: 1.55mm
With case on:

Total width: 24.15mm
Total height: 56.88mm
How do I remove the case?

How should I care for my Rugged Case for AirPods?

The leather will develop a patina over time, giving it a beautiful, worn-in and weathered look unique to you. A soft, damp cloth can help clean it, but we don't recommend fully submerging this

case

. For best care, use a quality leather conditioner.
Minimalist Construction
Designed to tightly fit your AirPods with our two-piece construction, Rugged Case provides additional drop and scratch protection. Built with genuine Horween leather, this minimalist construction retains the compact nature of your AirPods in style.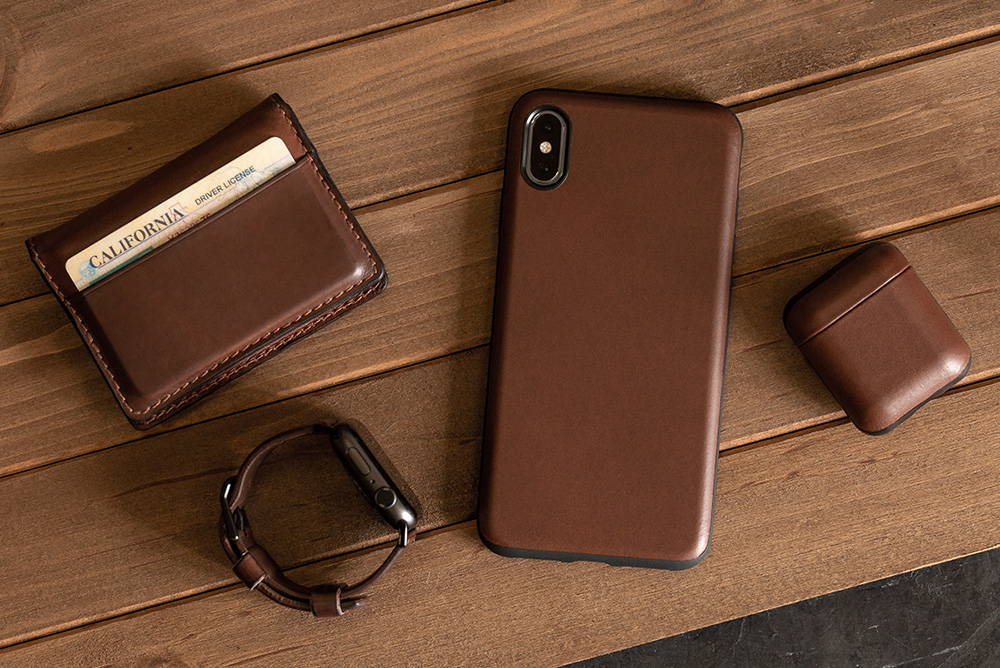 The Collection
Designed with the same premium Horween leather and rugged construction that Nomad is known for, Rugged Case for AirPods give you the protection and design you expect, pairing perfectly with your existing Nomad gear.