Κατασκευαστής:
NILLKIN
Κωδικός Προϊόντος:
Nillkin9HPLUSPROAntiScreenGlassiPhoneXSMAX
Nillkin Γυαλί προστασίας H PLUS PRO Anti-Explosion Glass Screen Protector για Apple iPhone XS MAX - ΔΙΑΦΑΝΟ

Use selected Japan AGC glass and HARVES nanotechnology bringing excellent protective performance.
The thickness is only 0.2mm processed by precise CNC cutting technology. 2.5D round edge for smooth and precise fit. Anti-burst Extreme tiny granular for buffering the glass from damaging impacts to protect your phone screen from drop, bump and other impacts. The glass will stay together even shattered under extreme impact to protect against hurting.
Scratch resistant Screen hardness up to 9H, scratch resistance performance is four times better than normal PET film. Anti-glare Unique anti-glare coating to prevent from dazzle light.
Structure Nano Oleophobic Coating - Resistance to oil residue and acid and alkali. Ultra Strong Tempered Glass - 9H screen hardness, anti-scratch. Anti-explosion Film Layer -Extreme tiny granular for buffering the glass from damaging impacts to protect your phone screen from drop, bump and other impacts. HD anti-glare coating -99.9% Clarity better reserve the original display effects of the screen. Silicon Coating - easy installation and can be reused after water cleaning.
Each pack includes 1x Nillkin H+ Pro Tempered Glass Screen Protector 1x screen cleaning cloth 1x Electrostatic dust absorber film 1x dry wipe 1x wet wipe 1x Back Film 2x Lens protector film
Apple iPhone XS MAX H+Pro Anti-Explosion Glass Screen Pro
Compatible Model:Apple iPhone XS MAX
Product Code:H+PRO-SP AP-IPHONE XS MAX
Product Category:protective film
Product Net Weight:6.8g
Product Gross Weight:88.8g
Package Size:188*110*14mm
Product Size:135*62.5MM
Product Color:transparent
Accessory:
---
Amazing H+PRO Anti-Explosion Tempered Glass Screen Protector
Selected and used Japan imported AGC glass material and HARVES Nanotechnology with excellent defensive performance. It owns super high transmittance and high restoring the original color of screen. It supports anti-glare coating to prevent glare derivative. Used special tempered glass material, its hardness up to 9H; scratch resistance and blowout. Its surface used Nanometer oleophobic coatings which is anti-fingerprint, oil rub resistance and effectively preventing and filtering ultraviolet ray.
Used the global advance glass screen protector technology, its thickness is only 0.2 mm with precise CNC cutting technology. 2.5D edging craft provides the nature excellence sense of touch, thinner, clear and safer. Environmental product which is can be reused after water wash.

Tips: The thickness of this product mentioned in the description and picture refers only to the thickness of the glass. AB glue is not included in the thickness.
Whole Set Version = super clear ant i- fingerprint screen film+Clear back paste+ film paste tool ( screen cloth + de- dusting sticker + adhesion device + scratc h card + removable adhesive strip + i llustrated guide )
NILLKIN Amazing H+ PRO Apple iPhone XS MAX
Necessary protection for your device

Nillkin Amazing H + PRO is a series of glasses tempered from increased resistance and flexibility, making their use easier and longer.

The glass has been fitted with notches for a specific phone model, and its hardness is up to 9H. The above specification was preserved at very low thickness - only 0.2 mm.

Nillkin Amazing H + PRO on one side is covered with silicon glue, which makes the assembly does not cause trouble, and the glass adheres very well to the device.The set also includes a protective film on the back of the device!

The main features of the product

Original Nillkin genuine tempered glass
Perfect fit to the surface of the display
Notches frontal camera, light sensor
Oleophobic layer that does not collect dirt
Anti-reflective coating Anti-Glare
High hardness and mechanical resistance
Application set
The original Nillkin film on the camera matrix
SET CONTAINS:
Tempered glass NILLKIN Amazing H + PRO for Apple iPhone XS MAX
Protective film on the back of the device
Glass application set
Original manufacturer's packaging
Amazing H+ PRO iPhone XS MAX
SIZE: 14,9 x 6,9 cm
THICKNESS (mm): 0.2
FITS: Apple
model: iPhone XS MAX
HARDNESS: 9H
Construction: rounded edges | oleophobic coating | sensor / button openings
Oleophobic coating: Yes
EDGE 2,5 D: YES
WEIGHT 10 g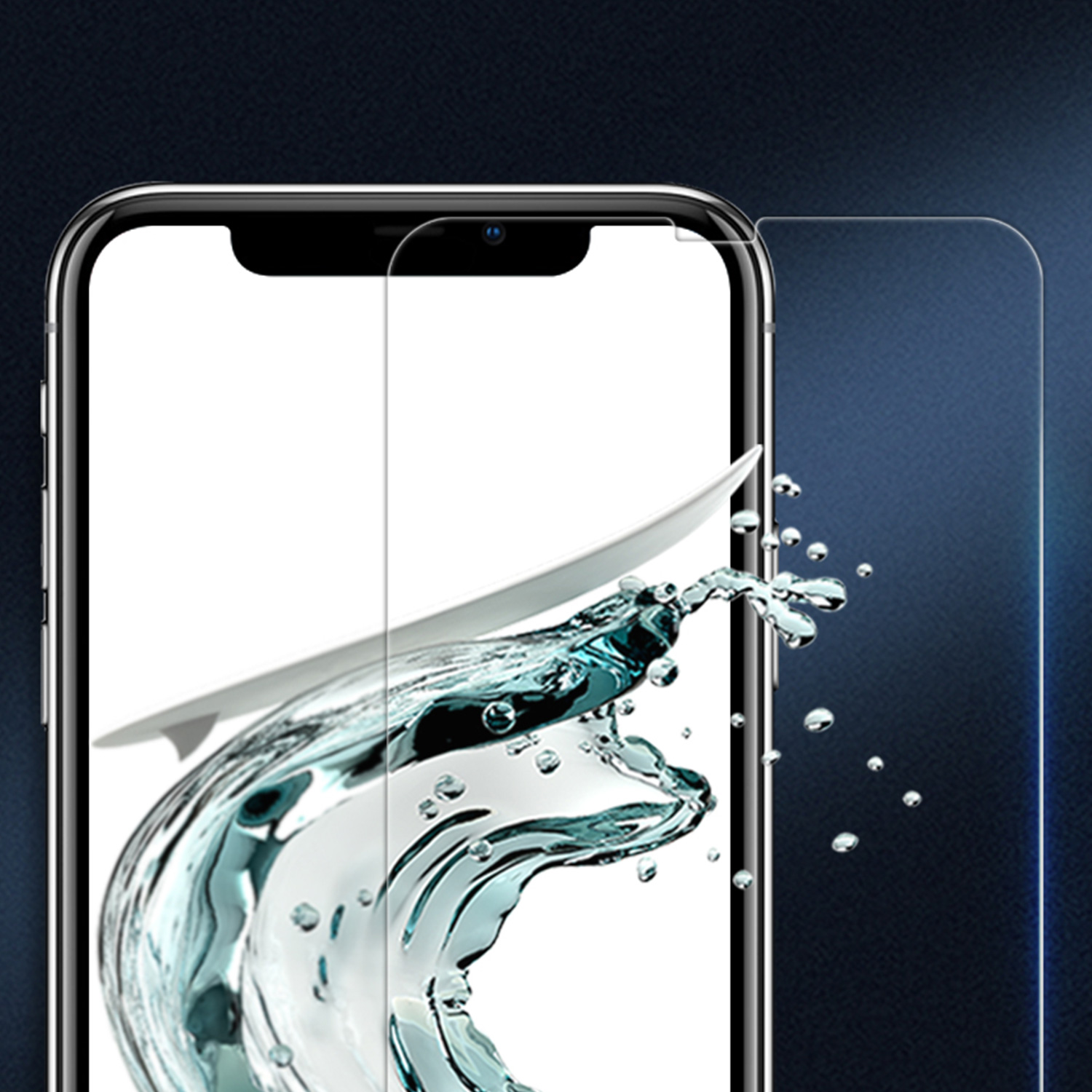 Excellent transparency
The Amazing H + PRO series is even more durable and accurate.
All glass from the H + PRO series has ground 2.5D edges.
This makes the glass on the edges is very pleasant to touch and looks very good.
Oleophobic coating
The manufacturer of these glasses also took care of the best tactile properties of the product.
Nillkin glasses have no negative effect on tactile phone support.
Thanks to the special oleophobic coating, the glass is much less dirty than the glass-free display, or cheap, unbranded products of this type.
An additional advantage is the ease of moving your finger on the glass, thanks to a special slip layer.