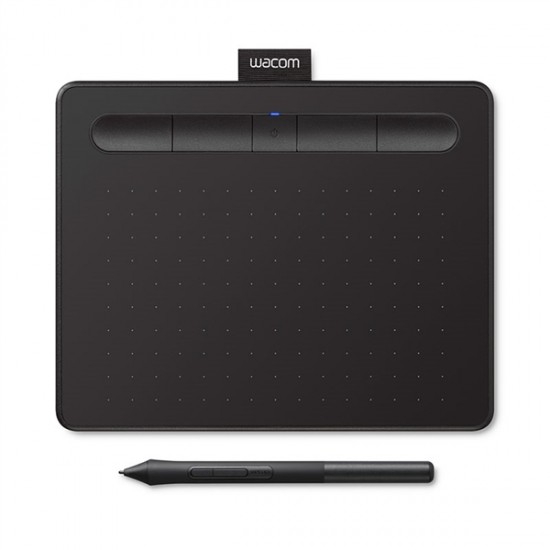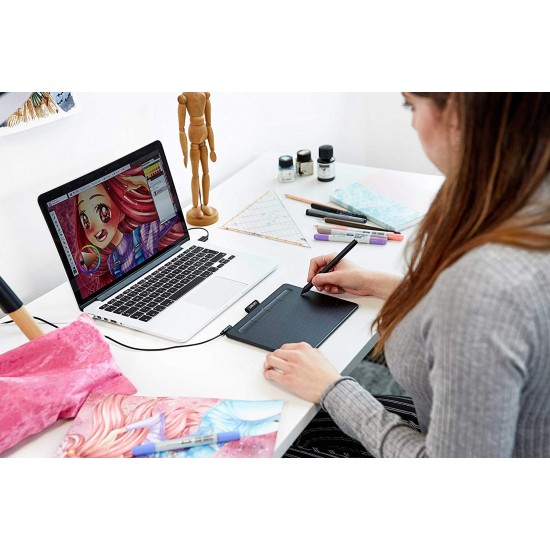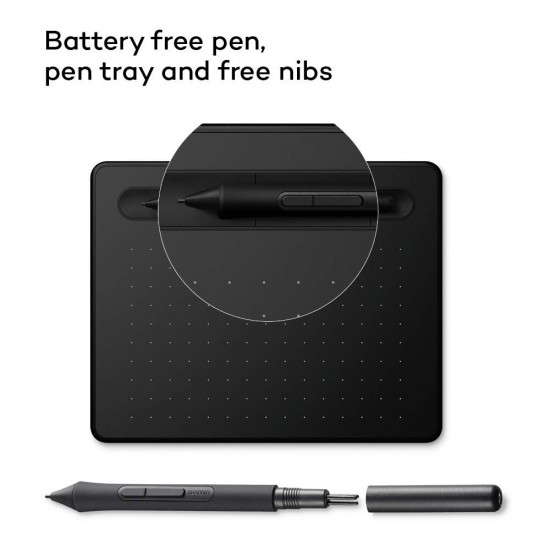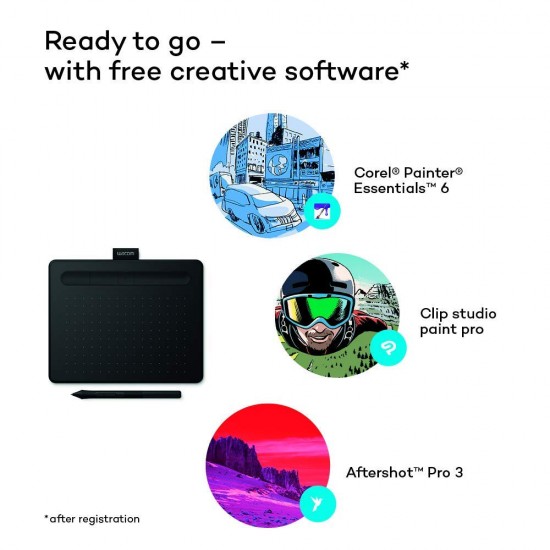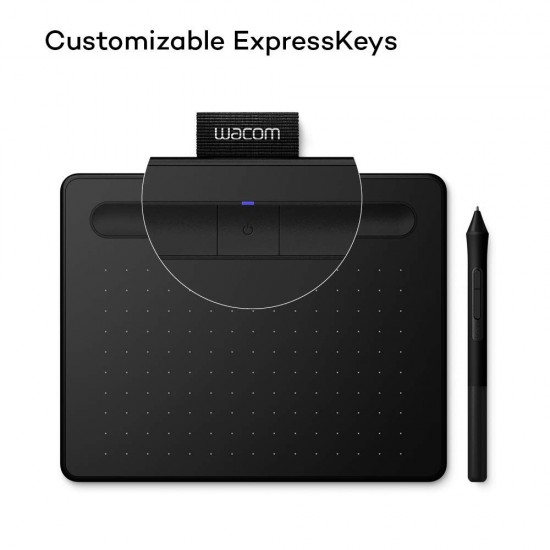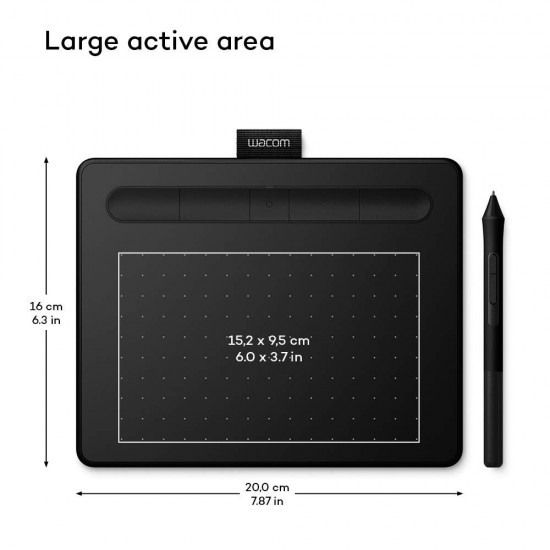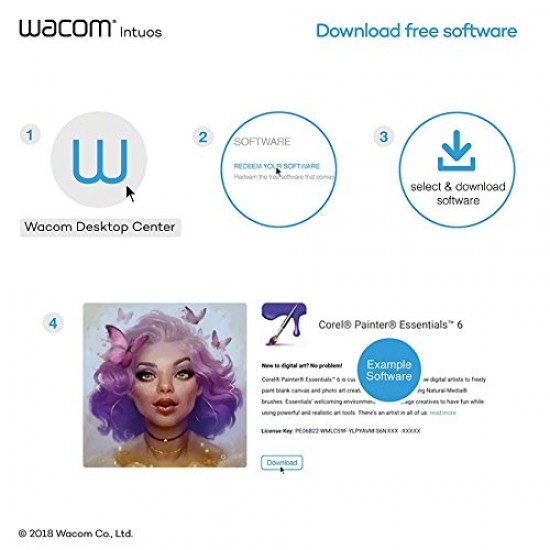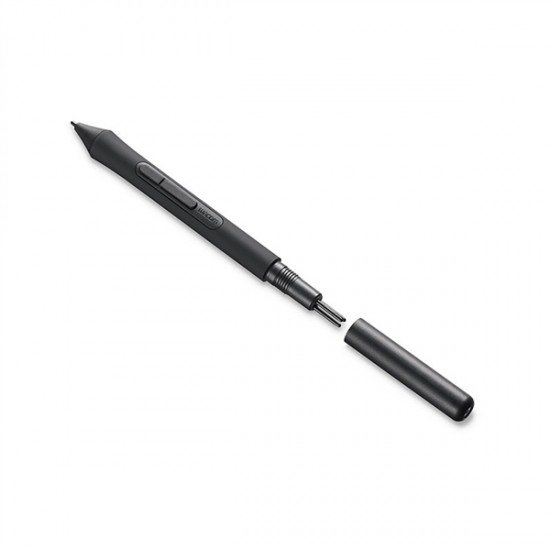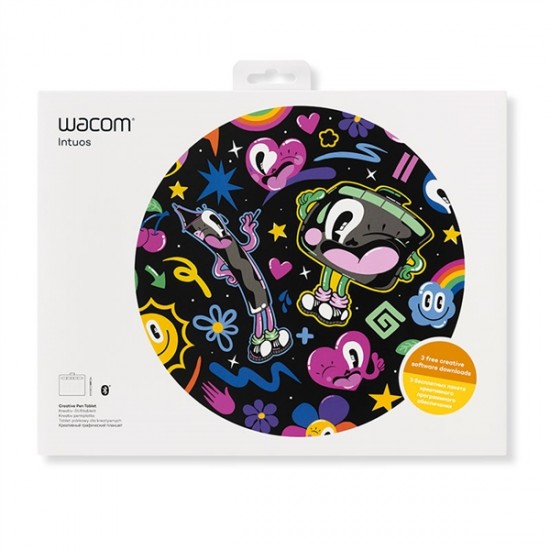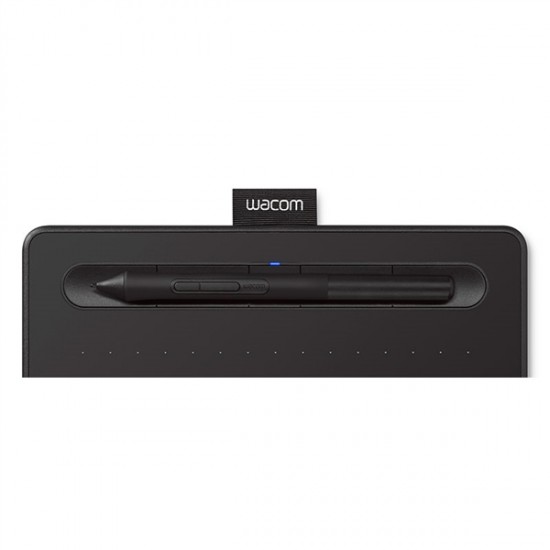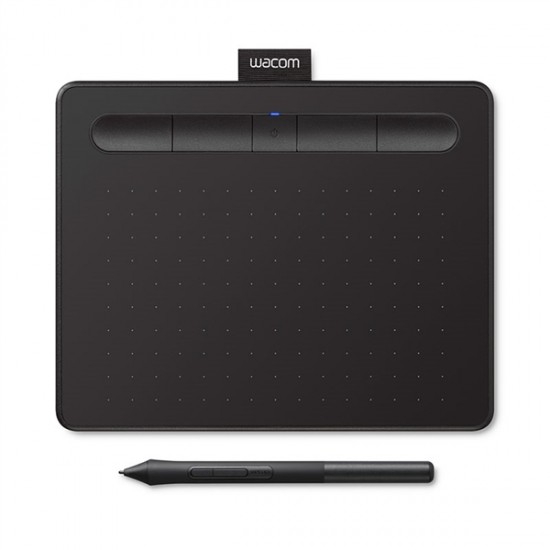 Delivery In 4-10 days












WACOM INTUOS PEN TABLET, SMALL - BLACK - CTL-4100K-N
Stock:

Delivery In 4-10 days

Model:

WACOMINTUOSPENTOUCHMEDIUMART

WACOM
WACOM INTUOS PEN TABLET, SMALL - BLACK - CTL-4100K-N

Wacom Intuos Small Pen Tablet
Greatness awaits - you are only an Intuos away.
Unleash your imagination with the new Intuos pen tablet. It features the market-leading pen tablet technology by Wacom, free downloadable creative
software and online trainings and tutorials. So, whether you want to draw amazing sketches, share your work with friends and the rest of the world,
or start a portfolio, Intuos has everything you need to live out your artistic aspirations.
Choose one of the free downloadable creative software programs at your disposal:
Corel Painter Essentials 6: Painting, drawing, photo montage, sketching, whatever you're ready to create! Release your inner artist with a wide
variety of painting styles, award-winning Natural-Media brushes and photo effects to create an authentic, hand-painted look.
Corel Aftershot 3: For all photographer enthusiasts, turn your photographs into unforgettable memories with a powerful processing tool and
presets to enhance any great looking image to superb.
Specifications:
Model: CTL-4100K-N
Size: 200 x 160 mm
Active Area: 152 x 95 mm (6.0 x 3.7 in)
Weight: 230g
Colour: Black
Multi-Touch: No
Stylus: Intuos Pen
Pen Pressure Levels: 4096
Wireless Support: No
Technology: Patented electromagnetic resonance method
Resolution: 2540 lpi
Reading Speed (pen): 133 pps
ExpressKeys: 4, with application specific settings
System Requirements: USB port / Internet connection / CD/DVD-ROM drive / Windows 7 resp. Mac OS X 10.8.5 or later
Warranty: 2 years
Items Delivered: Wacom Intuos Pen Tablet small, Wacom Intuos Pen incl. replacement nibs, USB cable, software download instruc-
tions and codes, quick start guide, installation CD
Box Contains
- 1 x Pen tablet small
- Pressure-sensitive, battery-free Wacom Pen 4K
- PVC-free USB cable with cable tidy and L-shaped connector
- 3 extra standard nibs (located inside pen)
- Nib removal tool on end of pen
- Quick start guide
- Regulation sheet
- Online User Guide and Important product information found in Wacom Desktop Center
---
From the manufacturer
Where the magic happens.
Wacom Intuos is designed for those who are drawing, painting and photo editing with their Mac or PC for the first time. Bring your wildest ideas to life with a light super-accurate pen and up to three free unique creative applications to suit your style. Wacom Intuos is all you need to get creative digitally.
Thanks to the free downloadable software, online tutorials, simple setup and easy use, you'll be creating in no time – and with great confidence. The 4k pressure-sensitive pen gives you accurate and advanced pen performance and realistic pen-on-paper feel.
Features
4k pen pressure sensitivity

Battery-free pen using EMR (Electro-Magnetic Resonance) technology

Up to 3 free downloadable creative apps upon creation of a Wacom ID with your personal data and product details

Easy set up and registration

4 customisable ExpressKeys

4.2 Bluetooth connectivity (on select models)
Dedicated to your creativity









Yours is a mighty pen

Enjoy a natural drawing experience. With its ergonomic design, 4k pressure sensitivity, low 7 mm reading height, higher linearity and weight-balance calibration, the pen delivers both precision and control. Customise the pen with two pen buttons and three accessory nibs – to fit your own way of working.

Clever, compact and stylish

Your Wacom Intuos is at home anywhere. Take the super slim, ultra-light and durable pen tablet with you and work everywhere you want. With an active drawing area stretching edge to edge and a built-in pen tray you have more room on your desk and more room to create.

Ready, set, create

The Wacom Intuos is prepared and ready for you. Simply connect the pen tablet to your PC or Mac via USB or Bluetooth, instal the driver, complete the easy registration and you're good to go. With online tutorials and free downloadable software, you´ll be creating in no time.
Free software for creative enthusiasts
Corel Painter Essentials 6
Release your inner artist with a wide variety of painting styles, award-winning Natural-Media brushes and photo effects. Get the most out of your pen tablet and create an authentic, hand-painted look every time.
CLIP STUDIO PAINT PRO
With natural pen strokes, quick colouring, unlimited tones and 3D figure templates, it has everything a budding comic-book artist or manga lover needs to bring action to life.
Corel AfterShot 3
Turn your passion for photography into unforgettable memories with powerful processing tools and presets to enhance any image from good to great.
The Intuos Pen Tablet is the perfect creative digital accompaniment from studio to study, bedroom to beyond, for all budding drawing enthusiasts, push your creativity to the edges

With a resolution of 2540 lpi, its active surface of 200 x 160 mm (7.9 in), 4 customisable ExpressKey buttons and the included stylus with 4096 pressure levels, this tablet ensures maximum precision

Digital drawing, painting or photo editing? Wacom Intuos is ready when you are / It's easy, simply connect to a computer with the USB cable to setup and download the free creative apps

System requirements: USB port / Windows 7 resp. Mac OS X 10.11 or later / Internet connection to download driver and software

Items delivered: 1 x Wacom Intuos Pen Tablet (Small) Black with 4K battery-free pen & USB cable / Select 2 of 3 available - Corel Painter Essentials 6, Corel Aftershot 3